CUSG partners with Gas Station TV and 22 Credit Union Leagues to celebrate International Credit Union Day
Livonia, MI (October 2, 2017) – To celebrate International Credit Union Day, CUSG (CUSG) has partnered with Gas Station TV (GSTV) and 22 credit union leagues, to run special credit union advertising at gas pumps across 32 states.
International Credit Union Day has been celebrated on the third Thursday of October since 1948. In honor of the special day, CUSG and GSTV have arranged for commercials to run at all GSTV-affiliated gas stations in 32 participating states from Oct. 13-19, 2017.
The week-long promotion will highlight credit union benefits and will be shown at nearly 12,000 gas stations, delivering 43 million impressions.
"Our partner, GSTV, offers a proven and effective way to reach engaged audiences," Dave Adams, president and CEO of CUSG said. "This promotion will help share the credit union story across the country, increase awareness and engage new members in a big way. We're excited to work together promoting the credit union difference on such a far-reaching project"
"Messaging for the campaign is based on valuable consumer research conducted by the Credit Union National Association," Adams continued. "This is being leveraged by 22 credit union leagues across the county, which is once again, another testament to the power of the CUNA/league system."
Recent research has shown that advertising on GSTV drives significant increases in consumer favorability toward products and services offered by credit unions.
Additionally, the GSTV audience is well-aligned with key credit union audience targets. Adults 18-49 comprise 69% of the network's viewership, and 41% of GSTV viewers are between the ages of 18 and 34, a significantly higher proportion than the general population. Moreover, the medium delivers twice the ad recall of TV.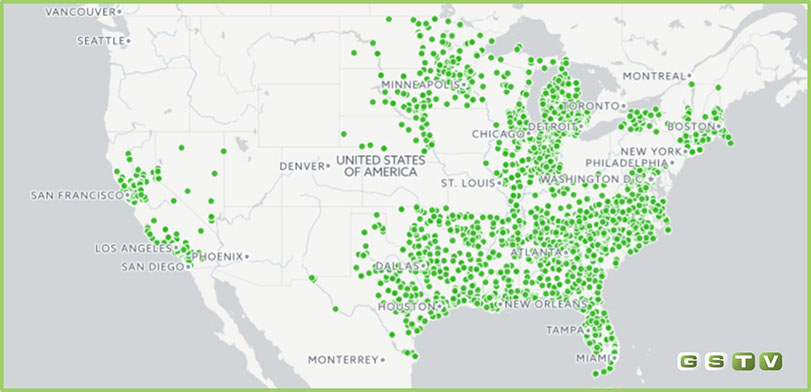 About CUSG
CUSG is an award-winning credit union service organization that offers products and services in the areas of technology, marketing and performance. The company is majority-owned by the Michigan Credit Union League and has more than 100 investors comprised of credit unions, credit union leagues and credit union system organizations. Headquartered in Livonia, MI, the organization serves more than 3,400 clients nationwide and has strategic partnerships with Intuit TurboTax®, Gas Station TV, CUNA Mutual Group, CU Vendor Management and Spireon. For more information, visit CUSG.com.
About Gas Station TV
Gas Station TV (GSTV) is America's No. 1 video network at the pump. Delivering the hard to reach, on-the–go consumer, GSTV reaches hundreds of millions of viewers every month at the nation's leading gas retailers across the United States. Offering an industry-leading experience, GSTV engages, influences and drives consumers to action on behalf of its advertisers and gas retailers. With exclusive content from premium providers, GSTV viewers enjoy informative and entertaining segments from ESPN, HLN, CNN Trending, What's Trending, Fusion Now, CNET, On-the-Go Weather and more. GSTV can be viewed throughout the country at leading gas retailers like Speedway, Circle K, Tesoro, Sunoco, BP, Chevron, Conoco-Phillips, Gulf, Arco, Marathon, Exxon-Mobil, Shell and Murphy USA. For more information, please visit GSTV.com.